Our Chiropractic Techniques
We use a number of highly-effective adjusting approaches to help improve spinal biomechanics and reduce nervous system interference. The approach we use is based on our clinical judgment and years of experience.
The primary adjusting techniques we use include:
Diversified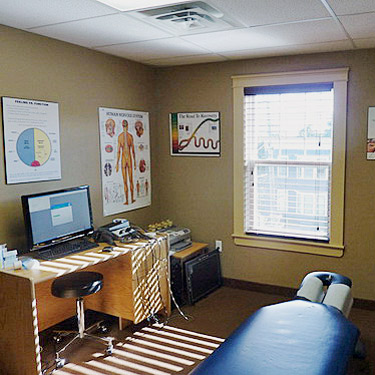 At Gillis Chiropractic, we use an adjusting style commonly referred to as "Diversified." First, an analysis of your spine is performed. This can initially involve a case history and X-ray pictures of your spine.
Subsequent visits may include motion palpation, with the chiropractor feeling the spinal joints move as you turn and bend. Or, a leg check may be performed, to uncover an imbalance in the neck or lower spine.
With the malposition of one or more spinal bones identified, a specific manual thrust is administered. The direction, speed, depth and angle that are used is the result of years of experience, practice and a thorough understanding of spinal mechanics.
The energy delivered during the thrust may produce a slight "popping" sound from the shifting of gas and fluids in the joint. This sound may be interesting, but is not a guide as to the value or effectiveness of the adjustment.
While improving spinal biomechanics can reduce nervous system interferences, virtually all joints of the body can be adjusted to help restore proper range of motion. If you've been to a chiropractor before and prefer to be adjusted in a particular way, let us know. We want you to relax, enjoy and fully benefit from your chiropractic care.
Acupuncture
As an ideal adjunct to chiropractic care, we use acupuncture when we see health problems that seem caused by disruption to energy pathways in your body called meridians. This centuries-old healing procedure focuses on the integrity of bodily systems, not specific conditions.
The most common question we get is about the needles we use. Most people have encountered hypodermic needles and sewing needles. Both types are gigantic compared to the ones we use. In fact, five of our needles could easily fit inside a hypodermic needle!
When we first insert these ultra-fine, sterile needles at special energy points on your body, most people report a small prick, like a mosquito bite. When there is discomfort it is usually created by vivid imaginations, not our needles!
No one knows for sure. We just know it does. Perhaps the best way to think about acupuncture is to imagine rivers of energy throughout your body, organized by meridians.
These meridians can experience a "log jam" and energy flow is restricted. The needles help loosen the logjam and allow energy to circulate properly.
Acupuncture visits can take up to 15-20 minutes.
Most people experience a variety of post-session feelings, which range from energized to a deep sense of relaxation and well-being.
Laser
Imagine the surprise when researchers learned that certain light frequencies could actually reduce inflammation and enhance the healing process! Related to the lasers used in scanners, this low level light energy can have positive effects on the body.
When patients learn that we use laser therapy in our practice, they have visions of a powerful, steel-cutting beam of light. The "cold" laser we use has only a tiny fraction of the power. Instead, its value comes from the frequency of the light it emits, not its intensity.
Specific Wavelengths
Instead of the full spectrum of light that comes from the sun, our low level laser produces light in a narrow frequency. Frequencies in the red portion of the rainbow are shown to assist the healing of soft tissues. Apparently, cells of our body have receptors that are sensitive to light.
How can certain frequencies of light speed up or slow down biological processes? Many theories have been suggested, but from practical application with real patients, we know it works for:
Wound healing
Inflammation reduction
Pain management
Cell regeneration
Scar tissue reduction
While scientists debate the mechanism by which low level laser works and publish their work in the scientific literature, our patients are just delighted that it works!
Therapeutic Massage
In combination with chiropractic care, massage therapy can help improve circulation and muscle tone.
We recommend massage in combination with your chiropractic care. While chiropractic focuses on the relationship between the spine and its impact on the nervous system, massage focuses on the 650 muscles of the body. Both disciplines work together to help keep the body in proper alignment, balance and function.
Retraining Your Spine
Long-standing spinal problems are accompanied by ingrained muscle patterns. Muscle spasms and scar tissue are often involved. By augmenting your chiropractic care with massage therapy, these muscle and soft tissue problems can be addressed. This can help speed your recovery and enhance the retraining of your spine.
Types of Massage
There are many different kinds of massage. They all involve systematically working the muscles and other soft tissues of the body to optimize the functioning of the various bodily systems. Massage can enhance your vitality and sense of well-being. Massage has been shown to…
Reduce the development of muscular patterning
Improve posture and re-balance your body/mind
Relieve pain in your muscles and joints
Ease constipation, gas and heartburn
Promote general relaxation
Stimulate intestinal movement
Eliminate excess fluid retention
Ready to Get Started?
Our friendly Saint John staff is here to answer any questions you may have. Give our Saint John chiropractic office a call to schedule an appointment today with Dr. Gillis or one of our massage therapist!
CONTACT US »
---
Chiropractic Care Saint John | (506) 652-2225